Archive for the 'Techie Corner' Category
I wanted to extend the Wi-Fi range by using my D-Link DIR-600 Rev. B. DD-WRT allows configuring a repeater bridge. This seamlessly links up two routers wirelessly. The repeater bridge is especially useful because the second router allows both wired and wireless connections.
Thankfully, repeater bridge is supported on DD-WRT on the DIR-600. I followed the instructions on the DD-WRT wiki, but kept encountering problems. After following through the instructions and applying the settings, I would see two SSIDs broadcasting from the router, and any device connected to the second router could not reach the first router. In addition, the network connections would drop intermittently. After much trial and error, flashing different versions, and searching the Internet, I realised what the problem was! It was from adding the virtual interface!
I re-setup the router, this time omitting the step to add the virtual interface, and everything worked perfectly! My DIR-600 works like a proper repeater, and wireless devices would seamlessly roam across the routers depending on the signal strength. Job well done!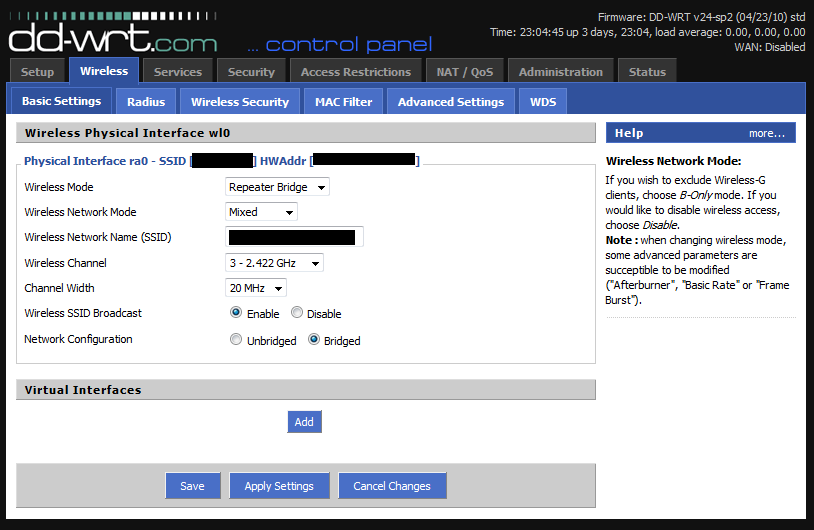 Here are the steps I did (adapted from the DD-WRT Wiki). My primary router is configured with WPA2 AES. The secondary router is running DD-WRT build 14311. The latest build in the DD-WRT router database, build 14896, is buggy.
Restore Factory Defaults on Secondary (DD-WRT) Router
Connect your computer to the secondary router via wired LAN port.
Open the address http://192.168.1.1 in your web browser. Newer versions of DD-WRT will require you to set a password before you can continue.
Open the Wireless -> Basic Settings tab

Physical Interface Section

Wireless Mode : Repeater Bridge
Wireless Network Mode : Must Match Primary Router
Wireless Network Name(SSID) : Must Match Primary Router exactly including exact case- Make sure you spell this correctly
Wireless Channel : Must Match Primary Router (This will disappear once you put it in RB mode, and isn't needed)
Wireless SSID Broadcast : Enable
Network Configuration : Bridged

Save

Open the Wireless -> Wireless Security tab

Physical Interface Section

Security Mode : Must Match Primary Router and DD-wrt only works reliably with WEP or WPA2-AES
WPA Algorithms : Must Match Primary Router
WPA Shared Key : Must Match Primary Router
Key Renewal Interval (in seconds) : Leave default

Save

Open the Setup -> Basic Setup tab

Connection Type will be: Disabled
Set STP for Disabled (Enabled sometimes can cause connection problems) redhawk
IP Address : 192.168.1.2 (Assuming Primary Router IP is 192.168.1.1)
Mask : 255.255.255.0
Gateway: 192.168.1.1 (again assuming Primary Router IP is 192.168.1.1)
DHCP Server: Disable
Local DNS: 192.168.1.1 (if IP of Primary Router is 192.168.1.1)
Assign WAN Port to Switch : Optionally enable this to use the WAN port as another LAN port.
Save

Open Setup -> Advanced Routing tab

Set Operating mode to "Router"
Save

Open Services
Open the Security -> Firewall tab

Uncheck all boxes…except Filter Multicast
Disable SPI firewall
APPLY Settings

Reboot the router.
Yesterday, I noticed that my website performance was a bit slow. Later that night, websites were not even loading. The server was up, as was LiteSpeed. Turns out some people from China had used my image hosting site to host their animated GIF avatars, ranging from 200 to 600+KB each. On a high traffic forum, this led to a huge spike in traffic due to the huge number of requests. Yesterday's traffic hit 160GB over 24 hours. Amazingly, LiteSpeed was still handling the requests. I was trying to tweak it so that other websites would not be affected by the lack of connections, but was unable to do so, so I deleted one of the high bandwidth image and went to bed. This morning, I checked the traffic stats and saw that the site pushed traffic of over 160GB over 24 hours, even with one of the images deleted with a third of the day left.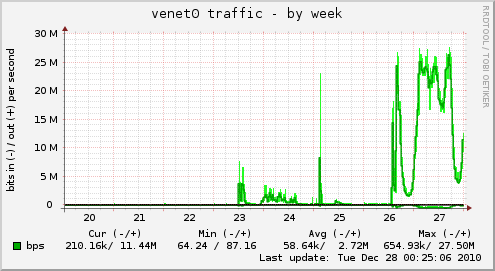 Some thoughts I have now: how to tweak LiteSpeed properly so that one site does not affect the rest; should I stop the image hosting site; or do I keep the site but add some bandwidth/data transfer restrictions?
Update: The users were back at it, pushing 20+Mbps (~2+MB/s) and basically DoS-ing my server. Well, nothing major, just that it was using up all available connections (I'm using the free LiteSpeed). I had to block the China IP range, which brought my server back to normal. Apologies to any legitimate users. I don't have the time to tweak the server or the site now.
I bought an in-car digital video recorder (DVR) from Carrefour after seeing an advertisement for it. It costs only $138, much cheaper than most other in-car DVRs that I've seen. One that I'd been eyeing for the past half year costs almost $200.
The DVR I bought is an unbranded OEM – all it says is "Mini DV High-Definition Video Record" on the box, with no brand or model number. They are sold under different brands and models on Alibaba and elsewhere.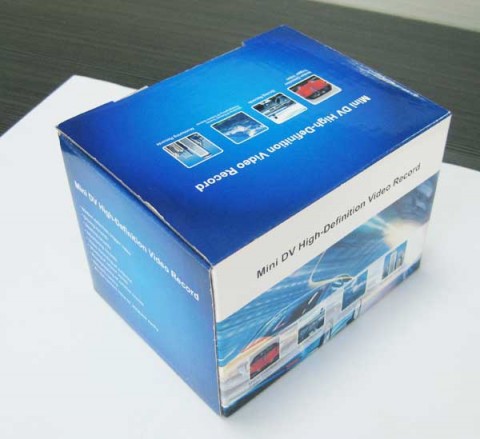 I mounted it beside the rear-view mirror, which gives a good angle of the front, but does not obstruct my view.
There are several things I like about this DVR. Of course, it's cheap. It supports the latest SDHC cards (some DVRs I know do not support SDHC). I also like that it uses a Nokia compatible battery. One thing I do not like about built-in batteries is that they will go through wear and tear and the batteries will die off over time. The DVR I had been eyeing uses a built-in battery, so my concern was that the $200 gadget would be useless after, say, one year. This DVR I bought uses a rather common Nokia compatible battery, so if the battery dies, I know I can easily buy a replacement. I think this was what motivated me to actually buy the DVR. I thought the motion and audio sensing was pretty neat. What it does is that sound will activate video recording, while motion will activate photo taking. This is a nifty function if you want to record any criminal acts or vandalism to the car.
There's only one main thing I don't like about the DVR, and that is the video quality. You can see the videos that I recorded below. Not exactly fantastic video, though good enough for evidence in case of an accident. It's also not exactly very discreet due to its saucer shape.
Plus points:
Cheap
Supports SHDC up to 32GB
Auto overwrite
Motion and audio sensing mode (pretty cool as a surveillance tool)
Uses Nokia BL-5C compatible battery
Other miscellaneous functions like photo mode, USB flash drive mode, PC webcam
Bad points:
Not fantastic video quality
Not very discreet (measures ~7.5cm or 3″ across)
Actual video sample (Day time)
Actual video sample (Night time)
After getting burnt by my previous webhost, SolidInternet (previously Myacen), I am more cautious when it comes to webhosts. I was with VirtuallyDedicated since November last year, and several things led me to switch to another webhost recently. These are how not to run a webhosting company.
Promise first, don't deliver.
VirtuallyDedicated promised me a few times a control panel for my VPS. I didn't really need a control panel. I just wanted it to be able to tell if my VPS was down by my own fault, or if the node was down, and to reboot my VPS if needed. Yet, I was promised again and again, and no control panel was delivered.
Don't communicate with your customers. Don't inform them of downtimes or system failures.
Throughout the time I was with VirtuallyDedicated, my VPS experienced a few occasions of extended downtime. Extended being in the range of hours. The webhost didn't bother to inform me nor offer any explanation. Unless I e-mailed them to ask about it. Over time, I just gave up and let the downtimes be, since they were rare.
Let your servers go down for really long, and not only not inform customers, but don't reply to their e-mails.
This last one took the cake. My VPS went down for over 24 hours. No word from the webhost. I submitted a support ticket, but did not receive a reply. I directly e-mailed the webhost, and over a day later, received a reply that the downtime was due to a hardware issue and that I didn't receive a reply because "for some reason tickets were not reaching the support system". No further explanation, not even why a hardware issue resulted in downtime of over a day.

After that, I simply had enough of VirtuallyDedicated. I decided that for my next webhost, I would go for an established company, one that actually had a real team of technical and support staff. Although there were some negative reviews, I am now on BurstNET. So far, so good. There was an incident where my VPS was performing very slow due to (I suspect) high disk I/O by some other user on the node. But since then, everything is working well and I'm happy with BurstNET.
I'm on Singtel, and my HTC HD2 gets preconfigured with four data networks: SingTel Streaming, SingTel MMS, SingTel WAP and SingTel Internet. If you go to "Settings" > "All Settings" > "Connections" > "Connections" > "Advanced" > "Select Networks", you can see the list under the heading "Programs that automatically connect to the Internet should connect using:".
One of the neat features of HTC Sense is the integration with Facebook, YouTube and Flickr. From the HTC Albums, you can easily upload photos to Facebook. If it works. Unfortunately for me, I couldn't get that feature to work. Instead, I was prompted to login. After typing in my e-mail and password, I got the following "Login error": "There has been a connection error while attempting to login". I never figured this problem out until recently. Apparently this is an obscure problem. I came across a forum posting that mentioned trying to change the default data network, so I tried that. To my surprise, I hit the jackpot with "SingTel Streaming". Once I selected that and tried to login, it worked! I changed the setting back to "SingTel Internet" (the default network), and was able to upload photos from HTC Albums!
I don't really know the difference between the different Singtel data network settings, and it is quite strange that even though "SingTel Internet" (aka "IDEAS Internet") is the default connection, HTC Sense is not able to login. This issue was also encountered on a HTC HD mini.
By the way, to manage your accounts in HTC Sense, go to "Settings" > "All Settings" > "Connections" > "Account Manager", and you will see the login status of Facebook, YouTube and Twitter. Not particularly intuitive.
A side effect of changing the data network was that all of a sudden, my Opera browser could not surf the Internet. Internet Explorer and other applications were fine. Just Opera. Loading any page would immediately display the network error page.
Thanks to a thread from Mobinauts, I found that the solution is to change the following registry key from '0′ to '1′:
HKEY_LOCAL_MACHINE\Software\Opera\Prefs\Network
Conn Mgr Auto Detect Network = 1
Apparently Opera is configured to connect only through "SingTel WAP". Unfortunately, something I did caused the connection to fail. By changing the registry, Opera will use an available data network setting, in this case, "SingTel Internet".
Perhaps these are more accurately telco (Singtel) quirks, rather than HTC Sense?